College Point Vinyl Signs
View Vinyl Sign Gallery
Vinyl is an extremely versatile and durable material, which makes it perfect for creating signs that can significantly promote your products and services and spread your brand in your community.
Queens Sign Company is a leading signage company that can provide you with the best College Point, NY vinyl signs you need for your business. We offer a wide selection of signage products of many specifications, such as colors, styles, and finishes. We can help you find the perfect customized sign that can satisfy your business goals!
With state-of-the-art durability, our products are here to spread your message and branding for the long-term.
Call Queens Sign Company at (718) 866-4880 for your Free Consultation!
Promotional Vinyl Banners
If you're looking for simple yet high-quality sign products that can suit many functions, our vinyl banners are definitely worth your marketing money. With a variety of colors, dimensions, and designs, banners have been a favorite among our customers. You can put your business name, logo, and other images on a massive sign that effectively sets your branding apart from the rest.
Aside from the stellar design that we will imprint on your banners, our signage experts at Queens Sign Company will ensure that they are properly installed with the appropriate accessories to make sure they are secure and last a long time.
Window Vinyl Clings & Film
Another favorite product on our list is our vinyl clings and film that are attached to glass windows. If you want bold, dynamic images and texts seen from outside your glass panes or a simple informational display, our vinyl products can be those for your business.
If you're a business that often has to change displays, events, or products, then our specialized vinyl clings will be best for you. Through a choice of static-cling adhesion or a temporary sticky glue, we can provide you with window vinyl signs that are very easy to move around, remove, reattach, or replace.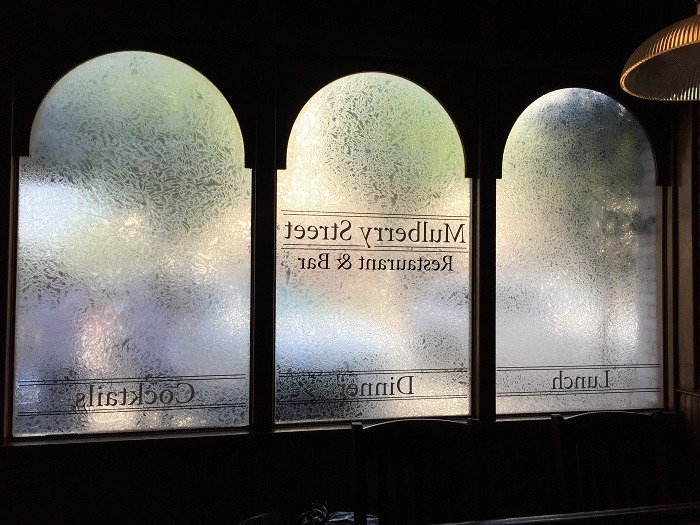 Furthermore, another specialty application of vinyl for glass windows is the privacy that they can provide. This is popular among service providers that have rented spaces for their offices. Vinyl clings are perfect if you cannot design, remove, or replace entire windows for your company's privacy or visual branding.
Get our state-of-the-art flexible window vinyl clings in a variety of styles, textures, and designs. Our graphic artists and production team can customize our products into any design and structure you need for your College Point vinyl signs..
Cut Vinyl Lettering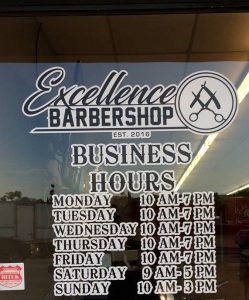 Cut vinyl lettering allows individual units of texts, symbols, or images to provide a great professional and clean look for businesses. It is often used to place important information about the company in areas easily seen, such as front doors or glass panes.
With Queens Sign Company, you can use cut vinyl lettering to showcase any important information, such as your business name, working hours, contact details, business features like free wi-fi, and even protocols like "no smoking."
This simple and straightforward sign type provides a quick communication tool for your clients, telling them essential information in a matter of seconds. Not to mention, cut vinyl letterings are very inexpensive and cost-effective, making them truly one of the best signage options you can add to your business.
Wall Murals & Floor Graphics
Windows, doors, storefront, banners—there seem to be many places where you can put your College Point vinyl signs. But do you know that even your walls and floors can join your whole branding campaign through signage products?
Murals are typically large-scale signage products imprinted on walls or floors. They serve several purposes, from the brand establishment, events promotions, wayfinding, or mere beautification.
Queens Sign Company's signage experts can help you decide on the location, design, size, information, and other specifications of your murals that perfectly fit your company goals. Whatever material your floors and walls are made of, whether they're wood, concrete, tile, and even certain carpet types, we can create vinyl murals that can perfectly stick to them.
Vinyl Graphics Options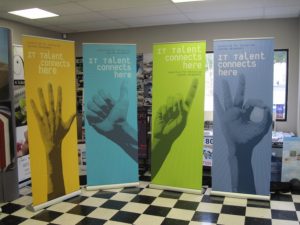 The choices you can have when you use our College Point vinyl signs are incredibly numerous. First, there are countless options for the type of sign to be used, from simple cut letterings to grand floor murals. Next, you must choose the specific colors, size, layout, thickness, accessories, and features for your signs.
The design must also be thought out thoroughly, with many decisions to make including the font of the texts, the size of the images, and even which images shall be included in the whole set.
Choosing the best signage options for your company can be an overwhelming task. But don't worry; our experts can provide free consultations on College Point vinyl signs. We are more than happy to recommend professional suggestions backed by our experience and previous successful examples.
Here's a short list of our available College Point vinyl sign products:
Let us talk over our free consultation about your company's signage goals. We are ready to brainstorm the best solutions for your problems and recommend the best specifications for your vinyl signs.
Full-Service Vinyl Graphic Shop
Queens Sign Company offers all the services needed to provide high-quality, durable, and attractive College Point vinyl signs to our clients. We have all the necessary resources, manpower, and expertise to provide our services—from design and consultations to production, installation, and repairs—at the highest quality of workmanship in the whole signage industry. With our extensive experience working with various clients all over the city, we are confident that we can provide the exact signage you need.
We always begin our process with a free consultation to closely examine your company's current situation, goals, vision, ideas, and branding. Our graphic designers will work closely with you to ensure that you are delighted with how the design represents your company. Our production and installation teams are ready to provide the highest quality of signage fabrication and installation to ensure that your College Point vinyl signs will last their lifespan at top performance.

Free Vinyl Signs & Graphics Consultation
Enjoy Queens Sign Company's wide array of high-quality College Point vinyl signage products. Whether you're looking for versatile banners and cut letterings or more complex floor murals and wall graphics, we can provide them all for you.
Get the best signage products today from the leading signage company in town!
Call Queens Sign Company at (718) 866-4880 for your Free Consultation!