Queens Vehicle Wraps
View Vehicle Wrap Gallery
Are you looking for the next big marketing upgrade for your company? Vehicle wraps might be what you're searching for. For high-quality automobile wraps, vehicle vinyl graphics, or even boat decals that can significantly boost your business's visibility, Queens Sign Company is all you need.
Our vehicle vinyl wraps are made to be highly visible and effective marketing tools. These wraps are especially phenomenal for food trucks, marina boat rentals, delivery services, and other vehicle-oriented businesses. Queens Sign Company offers not just top-notch products, but also the full set of services that you will need for your vehicle wraps, including graphic design, manufacturing, and seamless installation.
For all your vehicle wrap needs, all you need is your one-stop-shop for all visual marketing products: Queens Sign Company, the leading provider of Queens, NY vehicle wraps!

Call Queens Sign Company at (718) 866-4880 for your Free Consultation!
Vinyl Graphics, Partial Wraps, & Magnets
There are many types of vehicle wraps, and one of the most common differences is how much of your car will be covered by the product. Each type–full wrap, partial wrap, and individual cutouts and magnets–has its corresponding advantages and functions.
Full Vehicle Wraps
There's always good that can happen when you get the full potential of a product. With Queens Sign Company's high-quality Queens vehicle wraps, you can have your whole car, boat, truck, trailer, or van covered with attractive graphics for a full-force advertising show.
Aside from visibility and marketing, full vehicle wraps also add an extra layer of protection for your vehicle. Our heavy-duty vehicle wraps are durable even under harsh conditions such as strong sunlight or road salt for cars and saltwater for boats.
Partial Car Wraps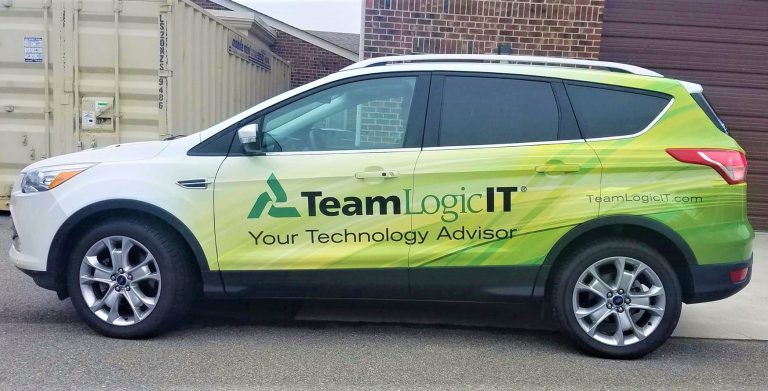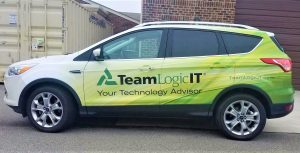 If you want highly visible graphics on your vehicle, but you don't want the entire thing to be covered, then you're going to enjoy our partial car wraps. This product is great if you want to focus people's attention only on certain parts of the vehicle. The most common parts that our customers choose include the side panel, doors, bumpers, hoods, and tailgates.
However, you can choose whichever parts you'd like to cover, or even combinations of parts. You don't need to worry about vehicle parts with irregular, non-flat surfaces. Our installation experts can ensure that no sign of imperfections like bubbles and ripples will be present once the wraps are placed.
Vinyl Graphics
If you want a simpler design or want to reduce costs, individual vinyl graphics are also a great option.
Instead of installing full sheets of vinyl graphics like in full and partial wrapping, this wrap type involves individual units of vinyl cutouts that can be placed anywhere you want on your vehicle. This type allows you greater flexibility in moving, changing, and replacing your wraps. A common use of this wrap type is placing a company logo on the vehicle.
Vehicle Magnets
If you want even more ease of use and flexibility, vehicle magnets might be the best option for you. Magnets are easier to remove and replace than other vehicle wraps. This is great for business owners who want to use their vehicles for work and personal use interchangeably. Apart from that, if you have seasonal promotions and timely brand messages that you want to publicize through your moving car, you may utilize these vehicle magnets as they are easy to install and detach as well.
Perforated Window Film
Won't vehicle wraps cover glass windows? Not with perforated window film, they won't.
This technology of specialized film material with holes allows drivers to see through graphics-covered windows and windshields while keeping the privacy of the vehicle's interior as well as the vivid, high-quality designs that we will print on the outside.
Professional Wraps For All Vehicle Types
Queens Sign Company's finest Queens vehicle wraps can fit any vehicle you have from any industry, from fleet wraps and large vehicle wraps to boat wraps.
We are fully qualified to adapt and customize our products to cater to your needs. We are ready to hear all about your goals, ideas, preferences, budget, location, business type, and other relevant information to ensure that the wraps we make for you are exactly what you need to boost your business's marketing. All you have to do is tell us what you want, and we'll give it to you.
We offer the following Queens vehicle wraps products and services:
Don't see what you're looking for? Queens Sign Company's facilities and expertise can bring you a wider range of products, from indoor signage, outdoor signage, murals, lighted signs, pole signs, and so much more. Just call us and tell us what you need. We'll give it to you.
Attractive Wraps for Your Entire Fleet
Vehicle wraps can boost your company's advertising influence. But another vital benefit your business can get from wraps is how customers see your company. Essentially, vehicle wraps provide a strong sense of formality and professionalism, especially for businesses that often work on location.
If you're a business that visits your client's address, such as delivery companies and service providers, a vehicle with vivid graphics showcasing your company name, logo, and other images will definitely help you earn trust from your customers.
This advantage applies to all industries, including delivery, logistics, electricians, pest and animal control, plumbers, cable companies, dry cleaning, tutors, driving school, repair, and handyman services.
Promotional Car Wraps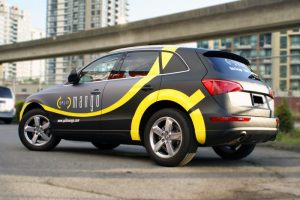 Having car wraps is one of the best investments you can make for your business. They can expand your advertising reach, highlight your best products and services, and add protection to your car paint even through harsh weather conditions.
Car wraps are perfect for businesses that don't necessarily have a headquarters or main office area. Some businesses operate in their residences, in shared office spaces, or no physical location at all. With car wraps, you can maintain a physical representation of your company when you visit your clients.
You don't need to worry about compromising the driver's sight when you cover your car windows. We have car wraps that can still display vibrant designs from the outside without covering the light coming in.
Custom Boat Wraps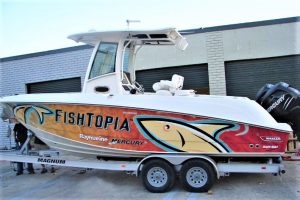 Queens Sign Company's industry-grade vehicle wraps also have special types that can cover your waterborne vehicles. Use them for personal and beautification purposes or commercial and marketing functions. These grade-A wraps are resistant to damage caused by seawater, freshwater, and even sand. So whether you're a freshwater lake fishing business or a saltwater bay boat rental, you can expect high-quality wraps covering your aquatic vehicles.
Boat Identification Numbers
Another function that our vehicle wraps can do for your boats is to display the important information required for waterborne vehicles. Our resistant vehicle decals can be cut out and imprinted on your boat to show information like ID numbers, licenses, and your boat name.
Boat-based Businesses
If you're running a boat-based business like charter fishing, boat and kayak rentals, parasailing, or whale watching, having boat wraps around your water vehicles can make your clients feel safe and more confident in your company. Boat wraps make a great investment because they also serve as marketing tools and extra protection for your vehicles.
Your Designs, Perfected
Are you still looking for a design for your vehicle wraps? Don't worry. Queens Sign Company has resident graphic designers who can help you strategize and create your vehicles' best designs. We'll incorporate your business brand, vision, goals, and budget to ensure that your company's designs are perfectly satisfying. Input any text, image, or symbol you want, from your company name and taglines to your logos and trademark images.
We aim to provide you with the best-designed Queens vehicle wraps that the industry can offer.
Full-Service Vehicle Wrapping
As your leading provider of Queens vehicle wraps, we don't just provide sheets of vinyl graphics to your doorstep. Queens Sign Company is also fully equipped and capable of designing, manufacturing, repairing, and installing industry-grade vehicle wraps.
Our graphic experts will first have a consultation with your business representatives so we can brainstorm, plan, and design the perfect vehicle wraps for your company. We want to make sure that all the necessary information is well accounted for, including your budget, schedules, preferences, goals, and vision.
To ensure that our expert manufacturing team produces the perfect final products, we will first create mockups of the blueprint. This will allow us to make certain desired changes as well as quality control of the product. Once the final graphic sheets are produced, our expert installers will install them on your vehicle with the utmost precision and excellence, ensuring that no sign of imperfection will be in place.
For all your Queens vehicle wrap needs, Queens Sign Company has got your back.
Free Vehicle Wrap Consultation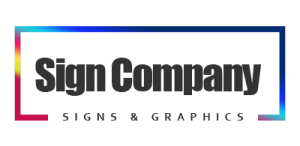 Enjoy attractive, durable, and industry-level vehicle wraps for all your vehicles, whether they may be massive trucks and vans or waterborne yachts and speedboats. These products will boost your brand, advertising, and overall professional look.
Call Queens Sign Company at (718) 866-4880 for your Free Consultation!