Long Island City Outdoor Signs
View Outdoor Sign Gallery
How you visually present your business and how your building looks and functions are essential to any company. The best way to do this is by using high-quality and attractive outdoor signs from the leading Long Island City signage company, Queens Sign Company.
No matter what industry your business is in, Queens Sign Company has all the means to provide you with effective signage that can establish your brand and convey your company's message to customers.
We have the resources and a team of experts to provide the full set of signs and services to our clients. We handle signage design, manufacturing, installation, and even repair. We aim to create custom signs that can boost our clients' marketing.
We take our clients' brands seriously. We know that each business is unique and that specific images, colors, styles, designs, and other elements make up a company's branding. Our graphic designers take into consideration these visual elements to guarantee that your signage products are customized according to your needs.
If your brand is not yet established, our expert design team can help create a cohesive plan with you.
For state-of-the-art Long Island City, NY outdoor signs that can effectively improve your business's marketing and brand establishment, look no further than Queens Sign Company, the best signage company in town.
Call Queens Sign Company at (718) 866-4880 for your Free Consultation!
Storefront & Building Signs

First impressions are important to any company in any industry. Signs significantly help a company be taken seriously by their potential customers by providing a welcoming and professional look from the first glance.
Queens Sign Company is dedicated to making signs that can completely improve a company's outdoor appearance and the impression it gives to customers. We make sure to provide our expert recommendations as you choose among numerous options for outdoor signage.
At Queens Sign Company, we know the importance of a business's unique voice. To create signage products that truly speak a company's personality and brand, we consider all relevant information, such as your location, competition, and budget.
We do this by having thorough conversations with you, taking note of every important aspect of your business goals, and gearing our resources accordingly to give you the best possible service.
Channel Letters & Dimensional Letters
Channel letters and dimensional letters are 3-dimensional sign types that provide an extension of your storefront instead of flat, glued-on signs. They can fit any business type because of their design flexibility.
With channel letters and dimensional signs, you can create 3-dimensional versions of your company name, logo, tagline, and other special images. Get them in various colors, finishes, materials, and sizes. You can even have them light up!
With the long list of varieties that you can add to your 3-dimensional signs, Queens Sign Company can help you find the best specifications that will fit your brand well.
Lighted Signs
Businesses that operate in the evenings and at night need specialized lighted signs for maximum functionality. At Queens Sign Company, we have an entire list of electronic light applications for all types of signs, including backlit signs, cabinet signs with electronics inside, illuminated channel letters, and even digital signs that you can easily manage and edit.
Neon signs, which were very popular back in the 50s, are now being replaced by cheaper, more eco-friendly, more cost-effective, LED signs, which you can get from Queens Sign Company. We can provide state-of-the-art LED signs that can truly satisfy your need for that authentic neon shine.
If you run a nightclub, bar, theater, gas station, convenience store, restaurant, and other night-oriented businesses, you will definitely enjoy our lighted signs.
Custom Sign Panels
If you're looking for straightforward and simple signs that can effectively relay a message, sign panels can do the job for you. They are flat panels typically made of aluminum or plastic attached directly to the wall or other flat surfaces. You can get them in simple flat designs or more dynamic, full-color, and textured styles, like a lightbox with an acrylic panel and translucent printing.
Due to their structure, panel signs are among the most affordable outdoor signs you can get. Nevertheless, they are very functional and can fit any business type, from corporate offices to restaurants and retail stores. Tell us your goals, budget, and branding, and we can help you find the best application for a custom panel sign.
Canopy & Awning Signs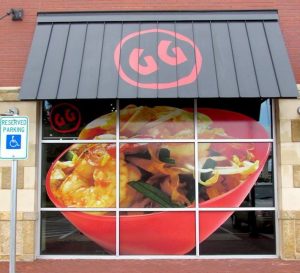 Creating a unique, boutique-style feel to any store, restaurant or shopping center, canopy and awning signs are great ways to establish your brand and spread your company name and images to your community. They also provide an extension to the roof of your building, adding shape and protection to your customers from the elements.
This sign type is typically made of a stretched canvas hanging from your building's facade above your entrance. With Queens Sign Company's products, we can help you decide on the best ways to place your business name, logo, and other symbols and images on your canopy and awning signs.
Due to their unique aesthetic, canopy signs are popular among businesses like salons, flower shops, galleries, hotels, and the like.
Monument Signs
If you run an institution like a school, hospital, organization, church, government agency, or a multi-business space, our strong, large-scale monument signs might be the best sign for you.
Monument signs are typically made of stone, wood, foam, and other durable materials. They are often designed by etching or fitting letters or panels on their surface, portraying texts, images, symbols, and other visual elements. Monument signs can also be installed with digital message boards that showcase virtually any text and image you want.
No matter what monument sign design you choose, Queens Sign Company can deliver it to your business location.
Pole Signs & Pylon Signs
If you're looking for maximum use of space to highlight your businesses, then the towering pole and pylon signs are what you need. If you run a business in a busy location where you need to stand out, a pole sign can bring a visibility advantage to your company.
Get them in various designs, colors, sizes, heights, and specifications.
Pole signs are especially popular in businesses like supermarkets, gas stations, convenience stores, and restaurants.
Complete Exterior Signage Provider
Queens Sign Company's high-quality Long Island City outdoor signs can provide anything your company needs from the signage industry. We won't just provide you with a single sign type and generic fonts and designs. We are ready to customize our products to fully satisfy your goals and establish your brand in these signs.
We don't just make a sign. We make sure that all of our signs are effective. We create them to instill brand recognition among your customers, attract more newcomers to your business, and ultimately increase your company's bottom line.
No matter what industry you're in, we can make the perfect sign for you. We can create real estate signs if you want to place sale signage on your on-sale properties. We can provide small a-frame signs for your coffee shops, flower shops, and fruit stands or large pole signs for your gas stations and convenience stores.
Here's a shortlist of some outdoor sign products that we offer:
Can't see what you're looking for? Don't worry. With our expert graphic designers, installers, and top-notch manufacturing facilities, we have what it takes to produce whatever signage products you will ever need. Just describe what you want, and our team of specialists will use all our resources and knowledge to create them for you.
Full-Service Exterior Sign Company
As your leading provider of the best Long Island City outdoor signs, Queens Sign Company offers all the services necessary to bring you the signage products you desire. From consultations and design to production and installation, we provide our services with our utmost professionalism and work ethic.
Our process begins with a consultation session with our signage experts. Our design team will take in all the necessary information on design and branding, such as whether you have existing branding guidelines or we're going to start from scratch. Whatever your design needs are, our graphic designers can adjust flawlessly. We will make sure to properly incorporate your business's personality and message into your outdoor signs.
Our expert manufacturing team and our signage production facilities allow us to have full control over the final printed, etched, or cut-out products. We make sure that our materials, tools, and technology are top-of-the-line.
Once the products are created, our expert installers will guarantee the perfect installation of your outdoor signs. Whether you need to bolt or glue your signs to the facade of your building or you need standing accessories to support your signage, we've got you covered. We will ensure that no signage has any imperfection in design, manufacturing, and installation, making sure they will last their full expected life spans and longer.
Our primary goal at Queens Sign Company is to provide the highest quality of Long Island City outdoor signs that truly boost your company's marketing and fully satisfy your branding and business goals.

Free Outdoor Sign Consultation
With expertly made outdoor signs, your business can expand in terms of branding, customer recognition, and, ultimately, income. Enjoy the perfect set of products and services from the leading provider of Long Island City outdoor signs, Queens Sign Company. We can't wait to work with you!
Call Queens Sign Company at (718) 866-4880 for your Free Consultation!